Week 2 of our Women In Horror Series kicks off with Christy Aldridge.
Christy, also known as the Southern Belle of Horror, lives in a small town in the sticks of Alabama. She's obsessed with animals, true crime, and pizza. She is constantly covered with cats and the truth is, they write her books for her. In November, she released her fourth novel, Seth, about a little boy ensnaring a small southern town with his prophecies from the Lord. However, one person can see the evil he's actually bringing into the town, one bird at a time.
So what inspired you to write the book Seth?
There was something about the nameless narrator and his relationship with Seth that drew me in. I felt like their relationship was, without a doubt, always honest. People viewed the narrator as filled with grief and unreliable because of it and these same people relied on Seth as an honest source of information, but when it was just them, there was nothing to hold back what the truth was. I saw this within the first few pages of writing them and it made me want to know more. I hope that also translated with readers as well.
What was the inspiration for the story?
The entire idea came from a drawing by Stefan Koidl. I'm always inspired heavily by art. Stefan Koidl is really amazing at creating a story within a single image. The drawing that inspired it was of a little boy with a paper bag over his head, standing in the snow with crows around him. There was a church in the background and it just sparked Seth's entire persona. They say a picture holds a thousand words, but in my case, that particular image held closer to eighty thousand.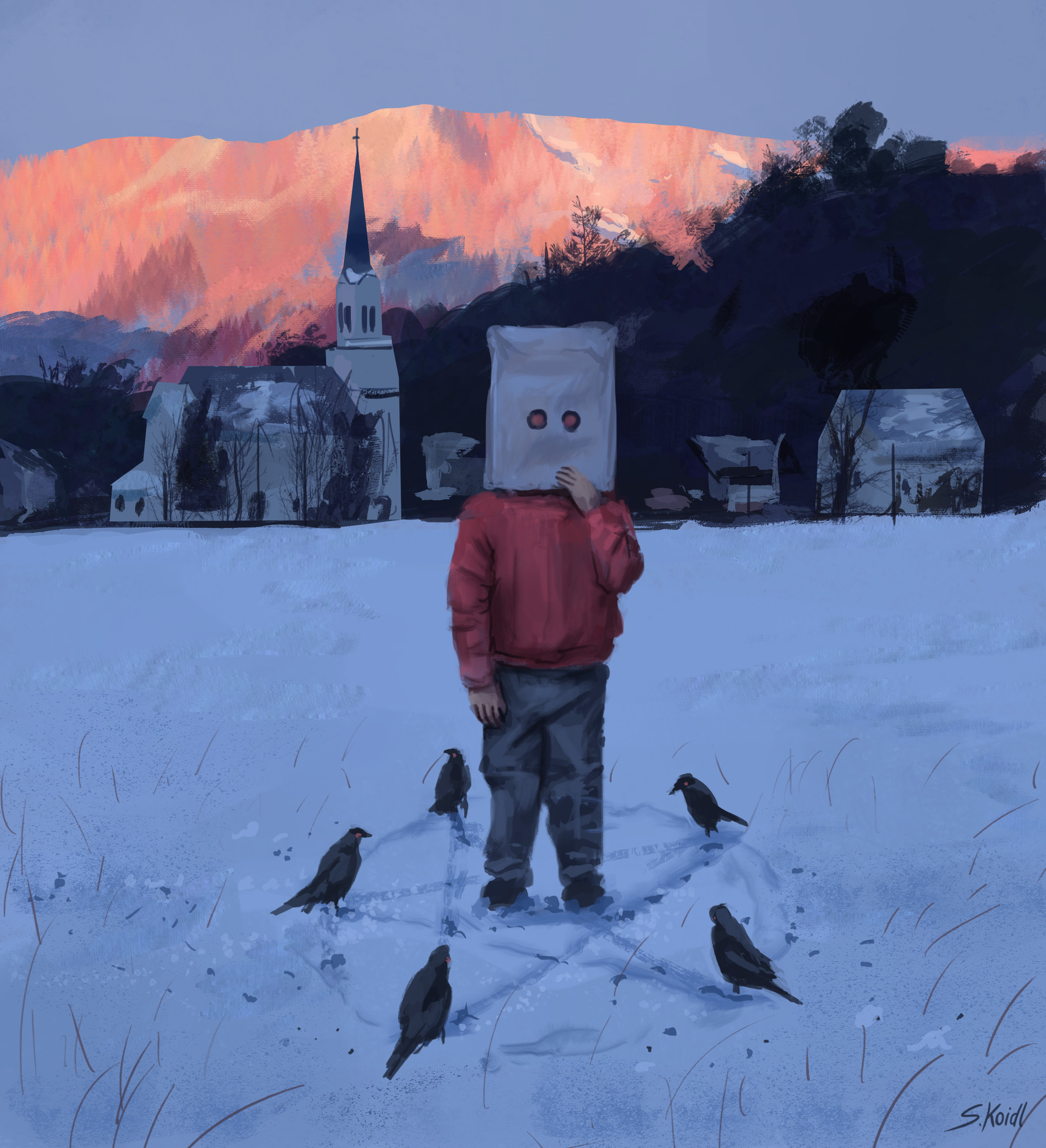 Are there any other characters in Seth who hold a special place in your heart?
In Seth, you meet an English teacher named Mr. Watson. When I started writing this book, I think I was mainly focused on my narrator and Seth because they were the main characters and much of the book centers on this child and teenage boy, but Mr. Watson came to serve a different purpose. I ended up becoming just as enamored by his viewpoints as my main character and I also became just as heartbroken during his own trials throughout the book. I think Mr. Watson is a character that could have been on his own and been an interesting story as well. I think his influence on the story and how he helped shape it will always be something I look back on and love.
Do you try more to be original or to deliver to readers what they want?
Neither. I think worrying about either one is where a lot of writers, especially aspiring ones, go wrong. I write to entertain myself. I write to expel my own demons. I write to remind myself of all of the things the world has to offer, good and bad. That often influences the types of stories I choose to write. I think I write about a lot of human monsters because of this. When it comes to the bad things in life, in my experience, it's humans that are often pulling the strings. The fact that there are people out there who also enjoy what I write is nothing short of special. I think you should write for you and your audience will find you.
Yes! I agree and love that approach! What's your favorite under-appreciated novel?
Six Months. It was my third novel that I published and I feel like it flew under the radar for the most part. It's not my favorite out of the books I've published, but I sti feel like it deserved more love than it got at the time. I mean, who doesn't love novels that include a creepy husband holding a doctor responsible for his wife's death sentence by giving the doctor the same one? And also, Happy. Everyone should meet Happy at least once.
Do you have a favorite quote?
"In writing, you must kill all your darlings."
What did you want to be when you grew up?
I wanted to be everything! Life's too short to only do one thing. But, I doubt I'll ever ever be a ballerina or Britney Spears. So I'm happy that I did live out one of my dreams and became a writer.
Would you rather be in a room full of snakes or a room full of spiders?
Snakes. I was once afraid of both, but I've become so fascinated by snakes lately. Very misunderstood to be so beautiful.
Neither. Hot chocolate, all day, every day.
Are you working on anything at the present you would like to share with your readers about?
I am. I have two books planned for this year. One is still a secret, even to me. The other should be out around summer and it has been a project I've wanted to publish for a very long time. I really think it's going to blow some minds, so keep an eye out for future announcements.
As a woman author, what are you most proud of in bringing into horror literature?
Just a different perspective. I don't think that's limited to a gender or anything else though. I feel like everyone has their own perspective to bring to the genre, and that's why you should make it a point as a reader to explore as many different perspectives as possible.
Whether it's a different demographic than you or gender, race, sexual orientation, whatever it may be, we all have a story and they each will have their own merits. I think that as a poor southern girl, I might have one worth reading too. Something different to bring to the table, perhaps.
Can you tell us about a woman who inspired you. And tell us why?
I'm a corny person, so I'm definitely okay with saying my mom. She's the least spooky person I know, but she's always supported everything I chose to do in life. And she doesn't judge it. She fully embraces it because she loves me and she loves so deeply and purely. With everything in life, I aspire to bring that same love and light, even when writing in the darkest places about the darkest things, my mom inspires me to do it with grace and love. I wouldn't be the woman I am without her.
Thanks to Christy for being a part of our Women In Horror Series and for providing IndieMuse readers a glimpse into her world. Don't forget to add her book Seth to your library, if you haven't already!
SETH by Christy Aldridge
In the winter of 1966, a small southern town becomes entangled in a horror they never anticipated. With birds attacking the townsfolk, the people only have one person to turn to; a five year old boy who proclaims to be prophet.
He makes his claims of being sent by God to rid them of their sins. Everyone is falling for this little boy and his judgments. But one boy knows differently. He's seen what this little boy is doing and he's determined to stop him. He's determined to make sure no one else knows the pain he's known.
As things begin to grow colder and the little boy's influence only grows stronger, everyone begins to wonder: Who is Seth?
Richard started reading horror books at a young age, starting with R L Stine's 'Goosebumps' and 'Point Horror' series. He traumatised himself at the age of twelve when he read Stephen King's 'IT', and never looked back. He is currently based in the UK, where he lives with his partner, and an inappropriate amount of books.